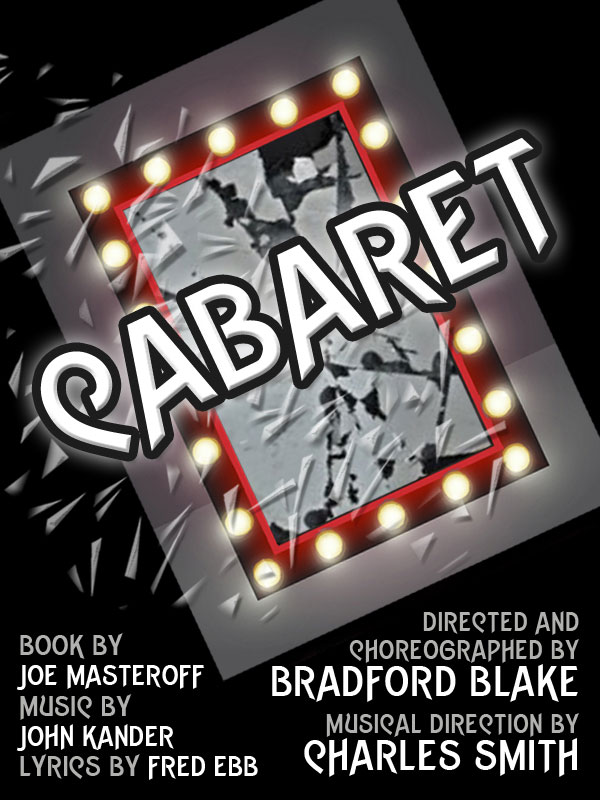 Cabaret
Book by Joe Masteroff; Based on the play by John Van Druten & Stories by Christopher Isherwood; Music By John Kander; Lyrics by Fred Ebb
Directed & Choreographed by Bradford Blake; Musical Direction by Charles Smith
September 20, 21, 27, 28, 29 (Matinee), October 4, 5, 6 (Matinee), 11, 12, 2019
Friday & Saturday 8:00PM
Sunday Matinee 2:00PM

In a Berlin nightclub, as the 1920s draw to a close, a garish Master of Ceremonies welcomes the audience and assures them they will forget all their troubles at the CABARET. With the Emcee's bawdy songs as wry commentary, CABARET explores the dark, heady, and tumultuous life of Berlin's natives and expatriates as Germany slowly yields to the emerging Third Reich. Cliff, a young American writer newly arrived in Berlin, is immediately taken by English singer Sally Bowles. Meanwhile, Fräulein Schneider, proprietor of Cliff and Sally's boarding house, tentatively begins a romance with Herr Schultz, a mild-mannered fruit seller who happens to be Jewish. Musical numbers include "Willkommen," "Cabaret," "Don't Tell Mama" and "Two Ladies."
Latest News
Cabaret - We are looking for two Kit Kat girls and boys. Rehearsals starting immediately. Please make inquiries and appointments to Producer Robin Frome email: Frome@snet.net.

2020 Play Submissions
Sherman Players is in the process of planning its 2020 season. We invite area directors to submit play selections for consideration by our play selection committee. Plays are welcome from a variety of genres including: comedy, drama, and musicals. 
Email all applications to: Frome@snet.net Reading Committee Head by August 30th. Please include: "Play Submission" in the subject line.
Follow Us On Facebook
Due to Facebook API changes it is now required that you use your own Facebook Access Token. To obtain a token, please use
this tool
. We apologize for any inconvenience.
To hide this message add the following to your website CSS file:
.cff-error-msg{display:none;}
Load more